The ideal ambience for your Christmas party!
The Christmas season is approaching, and what could be more festive than hosting your end-of-year party in a historic setting with modern luxury? The renowned Hotel Haus Delecke is opening its doors to companies looking for the perfect setting for their Christmas party.
Historic charm meets modern facilities
Hotel Haus Delecke, known for its picturesque location on Lake Möhne and its impressive architecture, offers the ideal setting for festive occasions. With its blend of historical charm and modern comfort, it is the perfect place to inspire your employees and end the year in style.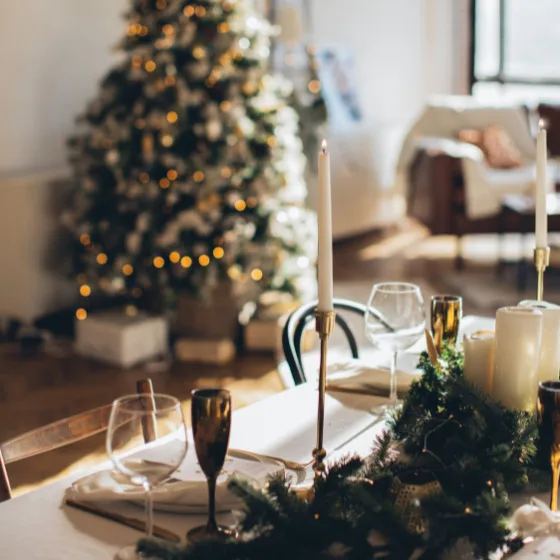 Reasons for a Christmas party at Hotel Haus Delecke
Tailor-made Christmas packages
Whether you are planning an intimate celebration for a small team or an opulent gala for hundreds of guests, Hotel Haus Delecke offers tailor-made packages to suit every budget and taste. From the festive menu and decorations to the entertainment, our professional events team will ensure that every celebration is an unforgettable experience.
Exquisite cuisine
Our award-winning cuisine ensures that your guests are culinary pampered. Choose from a wide range of traditional Christmas dishes or let our chefs surprise you with innovative creations.
Overnight accommodation options
For those who want to stay overnight after the celebration, the Hotel Haus Delecke offers luxurious rooms and suites where your guests can relax in a Christmas atmosphere.
Central location
The hotel's central location, easily accessible both by car and public transport, makes it attractive for guests from the entire region.
Make your Christmas party an unforgettable highlight and experience the magical atmosphere of the Hotel Haus Delecke during the most festive time of the year. Places are limited, so we recommend reserving well in advance.
Book a Christmas party at the Hotel Haus Delecke? For further information and bookings, please contact us directly. We look forward to planning an unforgettable celebration together with you! Christmas parties at Lake Möhne. Christmas parties at Lake Möhne.