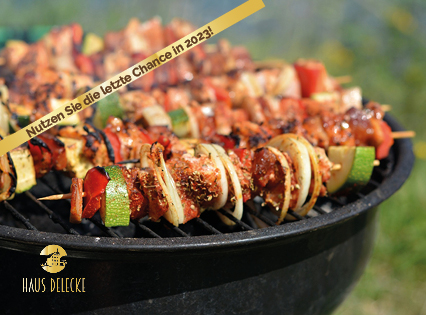 Finish barbecue
Dear barbecue friends and guests of Haus Delecke,
before we say goodbye to the barbecue season of the year, let's celebrate it properly! Therefore, we cordially invite you to our special barbecue action "Finish barbecue". On October 27, 2023, we will let the grill glow one last time and enjoy the last warm evenings of the year together.
At the end of the grilling season, we offer you an exquisite selection of grilled specialties. Whether juicy meat, fresh fish or crunchy vegetables – there is something for every taste. Of course, we also serve our homemade sauces and side dishes.
Let's fire up the grill together one last time and celebrate the end of a great season. Because the "Finish Barbecue" in Haus Delecke stands not only for delicious food, but also for social get-togethers in a cozy atmosphere.
We look forward to seeing you and to an atmospheric evening at the end of the barbecue season!
Start: 17:30
Price: 39,00 €
Book now: 02924 8090