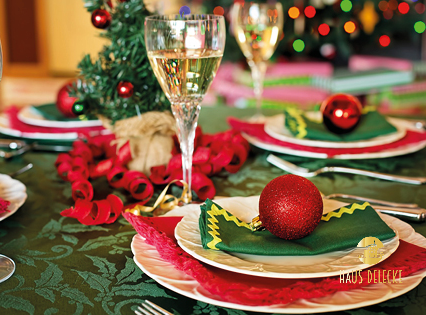 Advent season at Haus Delecke
Advent, Advent, ein Lichtlein brennt!
Haus Delecke cordially invites you to our very special Advent tradition: Our festive Advent brunch!
Enjoy every Sunday in Advent –
December 03 (1st Advent),
December 10 (2nd Advent),
December 17th (3rd Advent
a Christmas feast in our cozy Remise. From 10:30 to 15:00, we open our doors and offer you a rich brunch buffet with festive treats and classic Christmas delicacies. Here you will find everything your heart desires and more – whether sweet or savory, cold or warm dishes, traditional or innovative Christmas creations. Enjoy the quiet Advent Sundays in a cozy atmosphere and let us spoil you with culinary delights. Bring your family and friends and celebrate the pre-Christmas season with us at Haus Delecke. We look forward to spending beautiful Advent Sundays with you and to giving you a piece of pre-Christmas contemplation and joy. Please book in advance to ensure that we have a place for you.
Price per person: 69,00 €
For children from 6 to 12 years – € 34,50
Free of charge for children up to 6 years